.

.

.

.


HebrewPod101 is offering a 6-Month Challenge: Get 6-Month Premium for $66 or Premium PLUS for $166 with access to their entire learning system and exclusive membership of the Inner Circle, a monthly newsletter. You can unlock all audio and video lessons, lesson notes, mobile access, Premium study tools and the Inner Circle at up to 45% OFF! With Premium PLUS, you also get access to your very own teacher. From 19-30 June.
Coupon Code: 6MONTH2017 or 6MONTHPLUS2017


Sunday 13 December 2015
I'm now in a big revision phase, after Routledge. Going back through vocabulary mainly. And I'm on another countdown. I've signed up for a one-month intensive ulpan in Israel in January-February. If that doesn't motivate me to work hard, I don't know what will. The last thing I want is to do badly in the placement exam and to find myself in a class I shouldn't be worthy of. Feeling motivated yet somewhat nervous.

Saturday 30 May 2015
After a break linked to (over)work, I'm now back on track with my Hebrew studies. Relying on the fact that a little regularly is better than a lot from time to time, I've decided to have a Hebrew 'rally', working on Hebrew about 30-45 minutes every day. I plan to gradually work through the Routledge course and then when I'm done with that, follow on with the Living Language course immedidately afterwards.
Routledge is the course book for the U of Texas Hebrew course. It's divided into 8 units, with a total of 90 lessons. So, in theory, by working on just one lesson a day, you can get through it in just 3 months! One of the best things about it is that it comes with on-line resources - the key to the exercises plus audio lessons (all the texts read aloud) to help with understanding and pronunciation, and additional reading material. I think it's good value for money.
I'm currently on lesson 48, so just over half-way through. So far, so great. I'm very pleased with my progress, and as the lessons are each quite short, I have the impression I'm whizzing through. The grammar is very well explained and the vocabulary is unobtrusive, by which I mean that I'm not even realizing I'm learning it most of the time. Of course, I still have to revise each unit's vocabulary before moving on to the next.

Tuesday 29 January 2013
So, I'm planning my next trip to Israel. I have my flight and my apartment. Not being one for hotels, I always rent a small apartment no matter where I go. It enables me to blend in with the local populace and learn more about life in general in the places I visit. I have to go to the supermarket and market, always an experience in itself. Twice I have rented a room in someone's apartment - only positive experiences to report, in Tel Aviv and in Rome.
This trip will be particularly cool for me as I'll be away for almost a month, the first long trip without my sons in a long time. So I'll be able to do as I please and explore without contraints.
I've been looking into taking some courses while I'm there, with a couple of ulpan-type arrangements and also a private teacher being possibilities. But my e-mails have not always been answered, so I've still not made up my mind.
I'm revising Pimsleur Hebrew levels II and III in preparation for my trip. In my experience Pimsleur remains the course that has got me speaking.

Monday 28 January 2013
So, I've been updating the website to give it a better look and accessibility. I hope the categories are also more logical. The site is developing in various ways. You can see more advertising. Please trust that I'm trying to adhere to two principles here. One is simply that a site without advertising is desperately bare and unappealing. The second, more importantly, is that all advertisers have to be relevant and products that I believe to be good. This is not an endorsement, in that everyone has different experiences and expectations. However, you will read here about the products I have used and I am honest, and outspoken, in my views. Certainly if I have bad experiences with a company, the ad won't be around for very long. As I have mentioned before, the sparse income is used to cover costs and isn't even pocket money.

Tuesday 25 December 2012
I've had a few questions about how I use Yanshuf, so I thought I could mention my "method" - it's not systematic and neither patented nor guaranteed. It's simply what suits my schedule.
When I receive my Yanshuf envelope, the first thing I do I put the CD in the car and listen to all the articles on my way to and from work.
There are several things that can happen: I understand 1. everything; 2. the topic of the article and most of what it's about; 3. the topic of the article and some words or sentences but not what it's about; 4. the topic but not much else; 5. a few words or phrases but not even the topic (vocabulary missing). I think this is an interesting approach because it acts as a test to see what I've achieved. Most of the time, on first and second hearing, my understanding falls into categories 3 and 4. Once I've listened several times, I get a lot more - perhaps mostly 2 and 3 and occasionally 1, except for those articles with vocabulary I've never met.
Then at other moments of the day I'll gradually tackle articles, and read as much as I get time to read before the next magazine arrives.
As I read, I highlight words in the glossary, and after I've finished with the magazine I keep the glossary for future reference (a pipe dream, probably!).
But I also copy out certain articles and translate one from time to time.
Does anyone else have any good suggestions?

Monday 24 December 2012
I bought two very useful books that are worth a mention. The first is Hebrew for Beginners. I really wish I had found this book a few years back as it would have been a good way to start learning Hebrew. Even at my current level it has been interesting and useful.
The second is A Step by Step Guide to Modern Hebrew - which is an in-depth look at verbs and binyanim formation. It is really excellent and tackles verb conjugation in the most logical way I have seen yet.

My collection of books and audio resources is now as follows: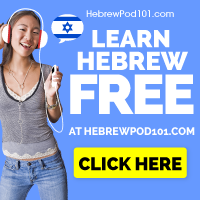 Wednesday 16 May 2012
I've been a subscriber to Yanshuf easy Hebrew newspaper (with CD and glossary) for three years now. The articles are good, and the topics varied, covering everything from current events to sport and entertainment. And each edition has a 'letters' section in which 'readers' write in on topics in the previous edition, which provides some revision.
Most articles are written with niqud, but each edition has a couple of pages of articles without niqud too, so that gradually you can practice 'real' reading.
It's a very good resource and can be used in a number of ways to improve various language skills, in both a classroom situation and individually. For example:

reading (silent and aloud)
listening (with the CD)
vocabulary (with the glossary)
writing (copying out the articles or the glossary)
dictation (from the CD)

Sunday 7 May 2012
A brief update on site visits. This little site appears more popular than I ever expected, so there's obviously great interest in learning modern Hebrew. There are an average of 70 visits per day from all over the world. There's barely a country, even the tiniest, where at least one person hasn't visited. The top 10 in order over the past year are: USA, Poland, Sweden, Israel, UK, Spain, Brazil, Canada, Mexico, and Russia.
I'm really grateful to those (few) people who support the sponsors. It's not an income, it's not even pocket money, but it has covered the cost of one book so far. :-)
If you'd like to support the project, have a look at what the sponsors have to offer.

Friday 4 May 2012
I hadn't realized it was such a long time since I updated this page. So there's a lot to add. I went on a trip to Israel, and tried to combine it with a couple of hours every day with a private teacher I found on Craig's List. But that was a big disappointment mainly because she had no teaching method. On CL she made huge claims that her students made huge progress with her and ended up conversing on a variety of subjects. That wasn't true. What I wanted was to consolidate what I knew already, practise it, and then build on that foundation. But basically all that happened was she talked at me on very advanced subjects using vocabulary I'd never heard before, scribbling it down in a note book so that I could learn it later. It all went so fast that I could barely contribute at all, let alone practise. So I paid a lot of money for nothing and made zero progress while I was there.
In any case, after getting back I needed a break and to concentrate on other aspects of my life. But I still couldn't leave things alone and wanted to maintain what I had learnt.
I still find that for immediacy of learning, there's little to beat Pimsleur. But it is only about 1000 words of vocabulary in all, although you can actually use it correctly once you've been through it - as I saw in Israel, all the good stuff I was able to use came from Pimsleur! (even to the extent that I knew that the taxi driver wasn't taking me straight there - he wasn't following the instructions spoken by his satnav! Duh!).
I've been entering the Vis-Ed vocabulary cards in BYKI to help me learn them. It's a long, arduous process, but it enables me to review them once before I get down to the repetition. I haven't done many so far (a few hundred), but I'll get through them eventually.

Saturday 4 July 2009
Well, I'm slowly making progress. I've done all I can with Mansoor, and have started Lyttleton & Wang. They've opted for a no-niqud system with transliteration, which is okay after Mansoor. My time is short now because of the other courses I'm doing in health sciences, but still, I'm doing my best to do at least some every day.
I've assimilated most of the grammar now, and really need to boost my vocabulary as that is the biggest hurdle for me at this stage. So I've subscribed to an easy Hebrew newspaper Yanshuf (see the main page). Originally I ordered Bereshit, the beginners' version but they sent me Yanshuf instead and I'm coping quite well and am happy that I didn't get Bereshit as I'd had my reservations about it being too easy and the articles are very easy.
I've also bought the brand new Routledge Introductory Course in Modern Hebrew by Giore Etzion. It's intended for classroom study, and like Raizen has online resources, but I reckon I should cope once I've done Colloquial Hebrew. I'd really like to find a book of just exercises because I noticed from Mansoor that what really helped me progress was the exercises with a key.

Thursday 5 March 2009
It's been such a long time that I'm not quite sure what to say. I worked hard on Assimil until December 2008 and tried to consolidate what I'd done already. I nevertheless cannot say I worked properly on anything past lesson 65 (65/84). I was still frustrated that my knowledge of the verb system was so patchy. I knew there was a system and I wanted to find a book that described it properly and in a way that was easy to apply. I scanned various resources and saw how people reviewed them and was tempted by two books: Contemporary Hebrew by Menahem Mansoor and Colloquial Hebrew. I was a bit hesitant about Mansoor at first because there was no audio material. But something attracted me to it anyway. I ordered both and was prepared to be disappointed. I was wrong. Flicking through them, both appeared to offer something different from the books I had already. And Mansoor actually offered the Holy Grail of verb formation presented systematically (at least for the most common binyanim). Despite other commitments I've been working on Mansoor since early January, and I'm really pleased with my progress. Finally verbs are making some sense and it also has good exercises. Pity that there is no book 2.

Tuesday 14 October 2008
I have a serious weakness for this language. Despite telling myself I wouldn't buy another Hebrew manual before getting through Assimil, I decided I needed to get 501 Hebrew Verbs... but I also wanted a guide book to Israel so got the Lonely Planet guide, then was tempted by the multimedia UofTexas book by Esther Raizen and while I was about it I thought I should perhaps get the intermediate book as well as the beginner level book, so ended up buying four... which with the 20% discount offered by Amazon without my even needing to ask, set me back a few euros. I am trying to force myself to do more Assimil but it's not too easy remembering all the words when you suffer from (hopefully temporary) insomnia and you keep waking up in the night with Hebrew songs going through your head! But the lack of sleep is really hindering my vocab memory. I'm working through the first 50 Assimil lessons now, translating all the dialogues and translation exercises into English which I will then translate back to Hebrew once they're a little more distant - my spelling is likely to be appalling but I think I can remember the words in context. Otherwise I'm sorely lacking in actual grammar exercises. That was one reason to buy Raizen I & II. It would be nice to find a book of only exercises later on, once my vocabulary is a bit better.

Friday 26 September 2008
I'd like to give regular updates on my progress, among other things to show myself I am actually making progress. At about Lesson 40 Assimil (40/84) I felt I'd hit a glass ceiling. I didn't appear to be making any headway. No vocabulary was going in. I tried to forge ahead but was dissatisfied that there would be a huge gap in my knowledge. So I revised the whole of Pimsleur I and am now much happier with my grasp of that part - that represents an 'acquis'. And now I've started Pim II now, and whereas before when I tried it it felt scary, now it feels fine. I've also revised more of the Assimil revision lessons (every 7th lesson) to consolidate a bit more. I'm now getting to Assimil Lesson 50 which is supposed to be a watershed - from then on the student is supposed to continue through L51 and beyond at the same time as starting to revise from L1 translating from French into Hebrew. I think I need to consolidate the first 50 lessons first. However, I have just listened to the first CD (L1-L28) over again and found it all much easier than before - a clear sign of progress.

Backgound (spring 2008)

I've been learning Hebrew on my own with a multiple-resource approach. Having examined lots of the resources out there, I felt that I'd be best using a formal structured course at least as the base, then dipping into the other resources on the Internet for variety and to boost my understanding and vocabulary. What follows should not be considered as reviews – only my experience of the resources I chose. It might be useful to know that I'm a professional linguist, so my experience may not be representative.

I opted for the Assimil course (for French speakers), which also had the advantage of being new in 2007 so it contains all the latest technological vocabulary, such as computers, mobile phones, etc. I'm really enjoying this course. The dialogues are amusing and useful. There are, however, a few silly typos that should be fixed, though they shouldn't put you off.

However, I was very impressed with the reviews I read of Pimsleur, so fancied trying that too, out of curiosity if nothing else. Most people mentioned that Pimsleur was excellent in doing what it said on the box – i.e. getting you to talk, though it didn't go into details in grammar. And frankly, it is a good way of learning about 1,000 words (in all three levels) and how to use them in context. And 1,000 words after all are the basis of many people's normal every day vocabulary. Beyond that, you just need to build on vocabulary. Most people say it's 'expensive', though honestly, you'd pay more for private lessons for a year in which you'd probably learn less.

Then I downloaded BYKI to help me memorize sets of vocabulary. It's fun and takes some of the slog out of learning by heart.

Then I bought two grammar books because I like my grammar straight up too. I bought Glinert to start with but couldn't resist the Coffin & Bolozky too, as that appeared to be more recent and would suit for when I was more proficient. Glinert has the advantage of having niqud throughout. Coffin & Bolozky would have gained from that, I feel.

So far, so good. I'm making great progress and look forward to trying it out when I eventually get to Israel.